Stump Removal Service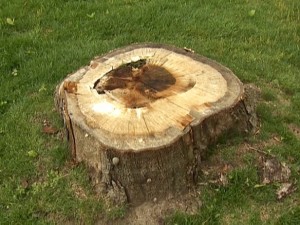 Stump removal service should be the final step in removing a tree or shrub.   We have provided stump removal services for many years.   The Stump is ground down to a depth below grade and includes large surface roots.  Healthy replacement of a new lawn, shrub or tree will have your property thriving again.  Stump removal is an aesthetically more pleasing look for your landscape.  If you have stumps on your property, and you need them removed, contact us.
Any mulch left over from stump grinding can be used to cover the root system of bedded plants, to protect them against winter freeze.
We also remove large unwanted shrubs in your landscape by either grinding or digging them out.  This will make any replanting or new landscape project more successful.
Tree stumps are more than unsightly, they are damaging to your lawn and property.  Stumps that are left can take years to rot or decay, increasing the chance for potential injury and run the risk of significant cave-in or sinkhole problems.  You may even find re-growth in some trees.