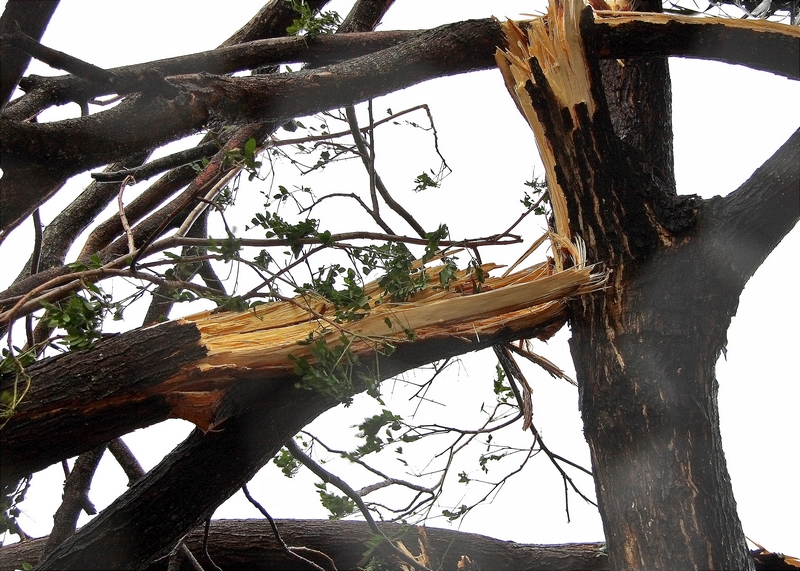 Winter. When people hear the word, most think of the snow, cold temperatures, and holiday fun with friends and family. What most people don't focus on is that winter can be a very dangerous time for your trees. As the weather outside becomes more frightful. While the temperature outside begins to drop. You should ask yourself are my trees healthy enough and safe enough to make it through this winter. Below are a few ways to prepare for the months ahead, and how you can prevent having to call for emergency tree service and keep your family and property safe. After all, winter is a time for fun with the family, not a time to be worrying about hazardous tree conditions around your house or property. Why add more stress to your life, especially this time of year.
Be aware of Dead or hanging limbs and branches

Your trees can go through a lot over the course of a year. The constant buildup of stress put on them from the severe weather conditions we have experienced these past years can leave them vulnerable. By adding to that any buildup of snow or violent wind can leave parts of your trees damaged, dying or even dead. Like the last straw, winter can really push a distressed tree right over the edge. That means hazardous, destructive and dangerous tree conditions for your property. Any additional weight brought on by snow or ice will only add to the risk.
How can you avoid this risk? Timely property inspections by a tree professional. Most reputable companies will offer a property or tree inspection for free. They will look at your trees to help determine if in fact any of your tree's, their branches or limbs are problematic and what can be done to remedy them.
Be cautious of trees near or touching power lines
If you have tree branches near power lines, your immediate attention is required. There are too many problems that can occur not to take care of this right away. Obviously you do not want to have the inconvenience of a power outage or worse have your trees start a fire.
The clear solution here is to have a trained tree expert trim the problem branches and remove the potential hazard. More so then ever, you want to contact a tree expert that has the experience of working around power lines. They need to be fully insured and have the equipment (i.e. bucket trucks and specialty saws) to do this potential dangerous job right. Remember prevention is always the best approach. Especially around power lines.
Be aware of trees near or touching your home
With or without the strong winds, trees leaning towards your home are a dangerous threat to you and your family. Falling trees account for a number of deaths each year. They also account for a lot of property damage. The tips of the tree just barely touching your roof line or your neighbor's home may seem innocent, but if the tree is close enough to touch, it is close enough to cause damage. Again, if you want to avoid emergency tree service, prevention is the easiest way. Moreover, winter or the dormant growing season is an excellent time to have your trees trimmed. It is also a great way to save money on the service.
Proper Tree care all year long:
Taking care of your trees all year will make them stronger. Trees are alive, and need to grow. If they get the proper nutrients, they will be healthier and live longer.
Watering and mulching around the roots of your trees will help strengthen them.
Staking younger trees, will also protect them from moving around in the windy season, will protect the tree trunks, and will make for a healthy tree in the future.
During icy conditions, try to avoid using road salts on or near your trees. The chemicals can interfere with your tree roots.
Try to keep the pests or animals that cause damage to your trees away. Specifically animals that like to eat the bark or branches of the tree. This added stress is unhealthy and wintery conditions will only add to the deterioration of the specimen.
Taking care of your trees and shrubs all year long is the smartest way to prevent tree problems.
While winter may be a time for fun and enjoyment, it is also a dangerous season for your trees. With the proper preparation, your trees can be looking better than ever, while not being a hazard at the same time. You can rest assured that an ounce of prevention goes along way especially when it comes to the health and safety of your trees this winter. By following some of these simple suggestions, you can prevent having to call for emergency tree service. You will be safer. Your property will be more secure and you can focus on what is really important: your family.
emergency prevention
,
emergency tree removal
,
Emergency tree service
,
property safety
,
Tree service